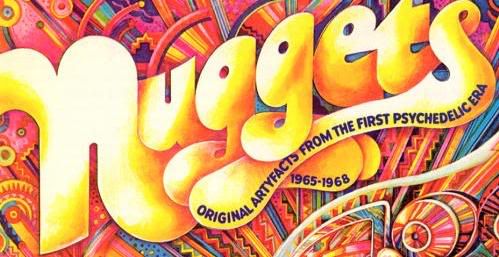 The Turtles
are probably the most high-profile group included on the first
Nuggets
box set. Of course, they aren't represented by any of their ubiquitous mega-hits like "Happy Together" or "Elenore", both of which would be undeniably out of place amongst the punky garage rock on
Nuggets
. Their rendition of Warren Zevon's "Outside Chance" fits in splendidly, though. It's a short, sharp blast of driving, riffy Rock & Roll and a neat indicator of how diverse the Turtles could be. They are primarily known as purveyors of schlocky pop like the two hits mentioned above, but during their brief record-making career (1965-1969) they recorded five eclectic albums, each one worth owning. But where to start? Where to start? Relax… answering this question is the point of the
Nuggets Record Buying Guide.
The obvious launching point may seem to be
Happy Together/She'd Rather Me with Me
(1967). It boasts the Turtles' two biggest hits (as indicated by its painfully unimaginative title) and a couple of popular misses (the slow-burning "Me About You"; "Guide for the Married Man", the title song from a Walter Matthau vehicle).
Happy Together
is not the Turtles' strongest album, though. Some of the cuts are fairly non-descript, and the idiotically sung "Rugs of Wood and Flowers" is unlistenable. Even a couple of the more well-known cuts aren't must-haves: "Happy Together" has been murdered by over-exposure and "Guide for the Married Man" sounds as disposable as most pop movie themes were in the mid-'60s. You don't want to be without "Me About You", "She'd Rather Be With Me", and some of the stronger album cuts (particularly "The Walking Song" and "Too Young to Be One"), but this record should be placed on the back burner for a bit. Same goes for
The Turtles Present the Battles of the Bands
(1968), which also contains a pair of huge hits ("Elenore" and "You Showed Me"), but there are too many goofy comedy tracks flanking them (the album's conceit finds the band impersonating various groups in various genres,
Sgt. Pepper
-style). Again, there are some great songs here ("You Showed Me" is one of the Turtles' best hit singles), but it's pretty spotty overall.
The real launching point for a Turtles-habit is their final album.
Turtle Soup
(1969) does not include a single hit, but considering that plenty of listeners never took the Turtles' hits very seriously, this is not a hindrance. The Turtles were so enamored with
The Kinks are the Village Green Preservation Society
(1968) that they nabbed Ray Davies to produce
Turtle Soup
, and the album shares the spare-but-intricate instrumentation that helped make
VGPS
an album that can be listened to over and over without being heard the same way twice. Also like
Village Green
,
Turtle Soup
covers a number of musical styles but remains unified by its production. There's some ecstatic jangle-pop ("She Always Leaves Me Laughing"), Lovin' Spoonful-style good timin' (the May/December love song "Bachelor Mother"), delirious Rock & Roll ( "Hot Little Hands"), baroque pop (the beautiful "John and Julie"), a country-fried waltz ("Dance This Dance"), spooky mysterioso psych ("Somewhere Friday Night"), a Wagnerian pocket symphony ("Love in the City"), and a fabulous variation on the quiet-LOUD-quiet recipe that made a hit of "Happy Together" ("You Don't Have to Walk in the Rain"). Perhaps out of respect for their guest producer, the band turned in their most serious roster of tunes. There isn't a "Rugs of Wood and Flowers" in the bunch, and after the hit-and-miss comedy of
The Turtles Present the Battle of the Bands
, this more serious direction is welcome. There are still moments of humor on
Turtle Soup
(most notably the sex-crazed "Hot Little Hands"), but there aren't any of the silly pastiches or jokey performances that made some of their previous records lopsided. Impressively,
Turtle Soup
is also the Turtles' only album to not contain a single song written by an outside composer, and each member of the group contributes both compositions and lead vocals.
Next, you might want to check out the Turtles second album, another lazily titled platter called
You Baby/Let Me Be
(1966). It's a transitional record, finding the Turtles with one foot in the Byrdsy folk-rock of their debut (
It Ain't Me Babe
[1965]) and one in the bubble gum of future hits like "She'd Rather Be with Me". Both styles are evidenced in the two hits for which the album was named, but the record also has some gutsy garage rock ("Flyin' High"; "Pall Bearing Ball Bearing World") and blues ("House of Pain"), and a funny rumba ("Suburbia").
It Ain't Me Babe
is almost as good. The Turtles' cover of "Like a Rolling Stone" is unnecessary (especially in light of the two superior Dylan covers with which it shares vinyl space), but their versions of P.F. Sloan's "Eve of Destruction", "Your Maw Said You Cried" (later covered by Robert Plant), and "Glitter and Gold" (covered by the amazing Canadian group Sloan in the '90s) are essential.