Summer's here again, which means it's time to listen to copious amounts of
The Beach Boys
. But where to start; where to start? That raggedy old copy of
Endless Summer
perhaps? Or a stack of tracks covering the usual sandy paths: "Good Vibrations" and "I Get Around" and "Fun, Fun, Fun" and "Wouldn't It Be Nice" and "Surfin' USA"? Perhaps you'd like to branch out a bit, and a discography as rich with buried treasure as that of The Beach Boys is certainly worth a deeper dive.
When I composed similar "21 Underrated Songs" lists for
The Rolling Stones
and
The Who
, I had little trouble deciding what constituted an underrated song. I basically just stuck with anything that hadn't appeared on a major Greatest Hits type album. The Stones released very few of these, so a wide portion of their catalogue was ripe for inclusion. The Who released a ton of them, but nearly every one of their "Best of" collections consists of picks pulled from the same pool of 20 or so songs. The Beach Boys have also put out a lot of compilations, but there is wider variation among them. So, I basically stuck to songs that were not released as single A-sides or on the first two Beach Boys comps I bought:
Endless Summer
and
Good Vibrations: Best of the Beach Boys
.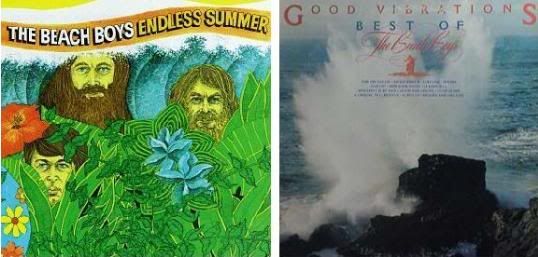 This means some exceptional tracks that are relatively underplayed did not make this list: "The Warmth of the Sun", "Girl Don't Tell Me", "Let Him Run Wild", "Friends", "Surf's Up", "Sail On Sailor", etc. Those all deserve to be heard more often than they are, but I set some parameters for myself and stuck to them, damn it. That being said, maybe you'll discover something that will wow your soul among these
21 Underrated Beach Boys Songs You Need to Hear Now!
1.
"Lonely Sea"
(from the album
Surfin' USA!
) 1963
The common misconceptions of those skeptical of the artistic value of The Beach Boys' music and the cult it inspired is that the group didn't show signs of progress until
Pet Sounds
and, in the words of
Rolling Stones
magazine's Dave Marsh, "Brian Wilson became a Major Artist by making music no one outside his own coterie ever heard" (Marsh is talking about
SMiLE
, which I'll discuss more further down this list). This is wholly untrue, and evidence of Wilson's "Major Artistry" (those are Marsh's smugly mocking caps, by the way) is apparent as early as The Beach Boys' second album,
Surfin' USA
. For those who don't think the ecstatically fresh title song is enough to qualify Wilson as an important artist (i.e.: people who neither care about nor understand Rock & Roll), there's "Lonely Sea". In this one largely forgotten ballad is all of the harmonic inventiveness and heart-wrenching pathos that would help make
Pet Sounds
the monster classic it has become. Unlike
Pet Sounds
, the arrangement is as sparse as could be. Some lightly brushed drums, barely-there bass, and a gently picked, heavily tremeloed guitar are the only backdrop to Brian's chilling lead vocal and the guys' gossamer harmonies.
_____________________________________________________________________________
2.
"We'll Run Away"
(from the album
All Summer Long
) 1964
Another beautiful ballad, this one pulled from The Beach Boys' first great album,
All Summer Long
. One of the few songs from that album that has not become an overly-familiar favorite, "We'll Run Away" is like a precursor to
"Wouldn't It Be Nice": a pair of lovesick teens rhapsodizes about ditching their folks to get married. In the innocent world of the early Beach Boys, "getting married" is code for being old enough to have sex—a quaintly '50s concept at odds with the wanton shouts of '50s rockers like Little Richard and Chuck Berry who were never concerned about tying the knot before indulging in a bit of wop bop-a loo-bop, a-wop bam-boom. As chaste as the lyric is on its surface, Brian's moaned vocal absolutely sweats sexual longing.
_____________________________________________________________________________
3.
"Please Let Me Wonder"
(from the album
Today!
) 1965
Although it did not immediately precede
Pet Sounds
,
Today!
is the album that provides The Beach Boys' most complete transition from surf rockers to cosmically experimental romantics. Having worked songs about surf, sun, and hot rods out of their system, The Beach Boys deliver a set of emotionally mature songs about youth and love with production that is dense and intricate and harmonies that swoop and roll like ocean waves. The warmly encompassing massed harmonies of "Please Let Me Wonder" provide a gorgeous counterpoint to the icy tremeloed guitar lines and shimmering percussion. Brian Wilson's ever growing maturity as a producer and singer (his voice takes a rare trip down to a lower, more adult-sounding register here) are matched in kind by Mike Love, who wrote the unexpectedly odd lyric about a young man who sincerely asks his girlfriend for permission to let his mind wonder… sort of a less insular, more egalitarian rewrite of Lennon's "There's a Place".
_____________________________________________________________________________
4.
"She Knows Me Too Well"
(from the album
Today!
) 1965
On "She Knows Me Too Well", Mike Love writes closer to his established style than he did on "Please Let Me Wonder". He wrote the song from the point of view of a guy who laments his jealousy, cruelty, and wandering eye while praising his girlfriend for putting up with his shit. The remorseful nastiness of Love's lyric is softened by Brian's heavenly arrangement and the weeping sweetness of his vocal. He really does make the guy sound sorry for being such an asshole.
_____________________________________________________________________________
5.
"In the Back of My Mind"
(from the album
Today!
) 1965
Capping the line-up of proto-masterpieces that make
Today!
The Beach Boys' greatest pre-
Pet Sounds
album is the reflective and soulful "In the Back of My Mind", a sort of psychocentric flip-side to "In My Room". Conflicted and self-pitying, but buoyed by a palpable romantic hopefulness, "In the Back of My Mind" skirts standard pop structure to unwind in a jazzier, more mercurial fashion. This is the kind of thing that someone like Sinatra could have sung, but as it happens, little brother Dennis Wilson takes the complicated lead, which he handles with a masterful blend of sensitivity and gravelly intensity.
_____________________________________________________________________________
6.
"The Girl From New York City"
(from the album
Summer Days [And Summer Nights!!]
) 1965
Between the twin masterpieces
Today!
and
Pet Sounds
fell an assemblage of the great, the good, and the gimmicky called
Summer Days (And Summer Nights!!)
. Along with a couple of monumental singles ("California Girls" and "Help Me Rhonda") and a handful of fan favorites ("Let Him Run Wild", "You're So Good to Me", the phenomenal "Girl Don't Tell Me") are several goofy larks that indicate the boys were running low on ideas. Yet, there are still treasures to discover here, such as "The Girl From New York City", a smart response to The Ad-Libs' hit "The Boy From New York City". With its growly sax, bluesy guitar and piano licks, and pounding beat, this is The Beach Boys' hardest rocking cut since "I Get Around".
_____________________________________________________________________________
7.
"Here Today"
(from the album
Pet Sounds
) 1966
As adventurous as the vocal and instrumental arrangements are on
Pet Sounds
, the songs tend to be relatively straight-forward in structure. The one major exception is "Here Today", which bounces between taut, staccato verses and megalithic oompah choruses before winding off into the stratosphere for an instrumental passage that sounds like "Eye of the Tiger" segueing into incidental music from a carnival spook house. More than any other track on
Pet Sounds
, "Here Today" indicates the bizarre paths The Beach Boys were preparing to beat with "Good Vibrations" and
SMiLE
.
_____________________________________________________________________________
8.
"I Just Wasn't Made For These Times"
(from the album
Pet Sounds
) 1966
Pet Sounds
is best known for its love songs, but the introspective "I Just Wasn't Made For These Times" is its track that best represents where Brian's head was at while making his most renowned work. Brian felt his more outré ideas would not be welcomed by others in his camp, and rightfully so considering the guff he received from his fellow Beach Boys when they returned from their tour of Japan to hear what he'd been cooking up in the studio with Phil Spector's Wrecking Crew. Anyone else would consider possessing Brian's genius a blessing, but the grief he received from his band and his record label (Mike Love and EMI's mantra was "Don't fuck with the formula, Brian") made it a burden. That's why this song's "I'm ahead of my time" message is more lament than Lennonesque boast à la "And Your Bird Can Sing". Meanwhile, Brian has his first dalliance with the Theremin, which would soon become the centerpiece of his most famous creation.
_____________________________________________________________________________
9.
"Hang On to Your Ego"
(outtake from the album
Pet Sounds
) 1966
Earlier work like "When I Grew Up (to Be a Man)" and "Please Let Me Wonder" may have suggested Mike Love had greater depth than his hot-roddin', chick chasin' persona suggested, but that depth had its bottom. There were lines he refused to cross, particularly any lyric with drug connotations. The singer found "Hang On to Your Ego" particularly "offensive," as acid-dropping was celebrated as a means to annihilate the inhibiting ego and let the id run wild. Love refused to lend his nasal pipes to a dissertation on LSD, so he changed a few lyrics, renamed the song "I Know There's an Answer", and made the number considerably less intriguing. When
Pet Sounds
made its way to CD, "Hang On to Your Ego" was finally afforded official release as a bonus track. With its original lyrics intact, the song fulfills its promise completely: profound, conflicted, yearning—everything that made Brian Wilson and
Pet Sounds
brilliant. Further indication of that brilliance resides in his nutso arrangement, which somehow manages to combine baritone harmonica, banjo, woodwinds, and tack piano into a perfect pop creation.
_____________________________________________________________________________
10.
"Cabin-Essence"
(from the album
20/20
; originally recorded for the unreleased album
SMiLE!
) 1966
As a follow-up to
Pet Sounds
, Brian damned Mike Love's torpedoes and went full steam ahead on a project that would win him a cult of worshippers as enamored with his madness as there are with his brilliance.
SMiLE
fused these two facets of his personality more assuredly than anything else he'd ever do. "Cabin-Essence", in particular, makes
Pet Sounds
sound like "Surfin' U.S.A.". Here Brian takes the experimentalism of the earlier L.P. past the point of sanity, and the results are mystical, magical, mesmerizing; a musical jig-saw puzzle in which none of the pieces should fit. How does the sparkling, sparseness of the Western-flavored verses jibe with the exotic chanting, thundering bass, and clanging percussion of the… I don't know…can we call the second section of "Cabin-Essence" a chorus? And then there's the "Have you seen the Grand Coulee working on the railroad" section, which is both foreboding and beautiful, and a pulverizing coda with dive-bombing fuzz bass and vocal harmonies flying this way and that like debris from the business-end of a jackhammer. Van Dyke Parks's lyrics are the perfect melding of a concrete storyline (America's natural landscape is irrevocably changed by the building of railroads) and his inimitable psychedelic jibber-jabber ("Over and over the crow cries uncover the corn fields"). Although the original
SMiLE
was not fated for completion during its time (some top-notch bootleggers have done their best to right this wrong, though), "Cabin-Essence" was fortunately rescued for the 1969 odds and ends collection,
20/20
. The hyphen in its title would not survive the rescue, though.
_____________________________________________________________________________
11.
"Wonderful"
(recorded for the unreleased album
SMiLE!
) 1966
The Beach Boys recorded the childlike "Wonderful" a couple of times. The first version is a harpsichord and vocals arrangement (with some incidental woodwinds and yodeling) recorded for
SMiLE
. The second was cut for the strange, demo-like
Smiley Smile
record, a pale attempt to salvage some of the
SMiLE
songs. That version is eerie and dirge-like and misses the boat completely. "Wonderful" is a song about the passage from innocence to experience, and it demands the music-box loveliness of its original arrangement. Fortunately, that version was officially released in 1993 on the
Good Vibrations
box set, and it is the definitive rendition of this truly wonderful song.
_____________________________________________________________________________
12.
"Wind Chimes"
(recorded for the unreleased album
SMiLE!
) 1966
SMiLE
was to culminate in a suite devoted to the four natural elements, which means Brian Wilson had conceived the extended medley three years ahead of The Beatles'
Abbey Road
, even though he didn't get a chance to consummate the concept for nearly forty years. Representing the "portion" of the Elements Suite is this appropriately airy ditty. Marimbas tinkle gentle over the sighing combination of Carol Kaye's bass and Carl Wilson's vocal. Then comes the storm: drums pound, massed vocals gust, and Kaye's bass swells into a mighty squall. "Wind Chimes" makes for a sumptuously picturesque two and a half minutes.
_____________________________________________________________________________
13.
"Can't Wait Too Long
(outtake) 1968
Originally believed to be a piece of
SMiLE
debris, "Can't Wait Too Long" was actually improvised in sections beginning with the
Wild Honey
(1967) sessions and into 1968. Like its contemporary "Cool Cool Water", the track is essentially a single phrase ("been way too long") run through a number of variations based on the closing section of "Wind Chimes". Brian improvises some soulful shouts over the hypnotically unwinding backing track, which morphs from breathy percussiveness to a more driving rhythm augmented with vibes and shuttering waves of fuzz bass. There are two common edits of the song: the first, released on the
Smiley Smile
/
Wild Honey
twofer in 1990, is the longer at 5:36. A tighter 3:51 edit appeared three years later on the
Good Vibrations: Thirty Years of the Beach Boys
boxed set. In his liner notes for the twofer, David Leaf described "Can't Wait Too Long" as "the single best piece of unreleased music in the Beach Boys' archives."
_____________________________________________________________________________
14.
"Little Bird"
(from the album
Friends
) 1968
Creatively exhausted after
SMiLE
disintegrated (temporarily), Brian leaned on his cohorts to help supply material for the
Friends
album. Surprisingly, Dennis Wilson, he of the rough larynx and pin-up puss, emerged as the most promising new writer in the bunch. His "Be Still" is pretty yet slight, but "Little Bird" is a taught mini-masterwork with an inventive rhythm and a catchy "nya nya nya" chorus. "Little Bird" also marks the beginning of the ecological concerns that would dominate the band's best early '70s work.
_____________________________________________________________________________
15.
"Busy Doin' Nothin'"
(from the album
Friends
) 1968
"Busy Doin' Nothin'" is an oddity in The Beach Boys' body of work because of its breezy samba rhythm, its total lack of choral harmonies, and its status as a track composed solely by Brian Wilson. Always confidant at the piano, Brian was less comfortable as a lyricist and tended to rely on people such as Mike Love, Tony Asher, and Van Dyke Parks to supply the words. Lyrically, "Busy Doin' Nothin'" is idiosyncratic in a way distinct from Mike Love's surf/cars/chicks obsessions, Tony Asher's romanticism, and Van Dyke Parks's cosmic weirdness. Brian composed his tale of time wasting in an awkwardly plain spoken manner that essentially ditches pop lyric conventions like rhyme and regular meter. Unusual as it is in The Beach Boys' oeuvre, Brian's lyric is absolutely charming. His arrangement of light percussion, woodwinds, and acoustic bass is exquisite.
_____________________________________________________________________________
16.
"Transcendental Meditation"
(from the album
Friends
) 1968
You either love it or you hate it, but you can't deny that "Transcendental Meditation" is an invigorating reminder of how out-there The Beach Boys could get. In 1967, they became the second most famous pop band to fall in line behind the Maharishi Mahesh Yogi and start practicing his patented meditation technique. In tribute, they recorded this discordantly freaky jazz rocker with the heaviest sax work this side of Captain Beefheart. Experimental, outrageous, and all-too brief, I personally find "Transcendental Meditation" to be one minute and fifty-three seconds of pure bliss.
_____________________________________________________________________________
17.
"This Whole World"
(from the album
Sunflower
) 1970
For many,
Sunflower
was the Beach Boys' "return to form" record after a few years of putting out sparsely arranged, quirky, homespun albums like
Smiley Smile
,
Wild Honey
and
Friends
. Some even went so far as to trumpet it as the equal of
Pet Sounds
, but to my ears it's a pretty spotty affair with fine tracks like "Add Some Music" and "Slip On Through" sitting beside mediocrities like "Got to Know the Woman" and "Deirdre". The album's second cut, however, is a miniature masterpiece. At just under two minutes, "This Whole World" careens breathlessly through a variety of colors and levels of rhythmic intensity as Brian Wilson ruminates on romantic and universal love. Gunning off with a mean Chuck Berry riff, the song rapidly sprints through doo-wop, sparkling
Pet Sounds
-derived pop, and an a cappella tag. All the while, Carl sings as if he's holding on for dear life.
_____________________________________________________________________________
18.
"Long Promised Road"
(from the album
Surf's Up
) 1971
Carl Wilson was a late bloomer, but when he did blossom, he proved to be one of The Beach Boys' most valuable assets. Carl had not been allowed to take a solo lead vocal until "Girl Don't Tell Me" in mid-'65. Singing lead on subsequent classics such as "God Only Knows", "Wonderful", and "I Can Hear Music", he proved to have the sweetest voice in the group. As a composer, he didn't take sole credit for a song until 1971's "Long Promised Road", which became his signature number due to its feisty message and Carl's gut-wrenching vocal. Gentle verses explode into what may be the most majestically powerful chorus in The Beach Boys' body of work. The bridge shimmers like twilight.
_____________________________________________________________________________
19.
"Feel Flows"
(from the album
Surf's Up
) 1971
Carl's other contribution to
Surf's Up
is The Beach Boys' most psychedelic track since "Good Vibrations". With its backwards guitar solos and vocal echo, noodling woodwinds, pulsing piano reminiscent of "Are You Experienced" by Jimi Hendrix, and general air of lysergic dreaminess, "Feel Flows" sounds more like a product of '67 than '71. As a lyric about transcendental meditation, it is a more poetic and mature piece than the earlier "Transcendental Meditation". Carl continues to emerge as The Beach Boy most capable of filling his big brother's shoes.
_____________________________________________________________________________
20.
"A Day in the Life of a Tree"
(from the album
Surf's Up
) 1971
"A Day in the Life of a Tree" is the most mysterious, evocative, and moving product of The Beach Boys' ecological enlightenment of the early '70s (and a far less pretentious piece than the "California Saga" on
Holland
). The off-key guest vocal by Jack Rieley makes this funereal track sound like no other The Beach Boys recorded. Brian was 100% correct in choosing his manager to sing it because he thought Rieley sounded like a wizened old tree. Somehow, he does! Close your eyes and you can picture the last few leaves fluttering from the title character's twisted, desiccated limbs on an overcast autumn afternoon.
_____________________________________________________________________________
21.
"Trader"
(from the album
Holland
) 1973
"Trader" finds the Beach Boys in social commentary mode, and Carl Wilson and Jack Rieley's picturesque poetry is remarkable; an epic tale charting the displacement and slaughter of Native Americans. No other Beach Boys song conveys such a bold fusion of anger, empathy, and awe, or presents the schizoid personality of the group in such stark terms. The first half of the track is taut and intense, the harmonies soaring and dipping like an army of drunken seagulls; the second is languid, quiet, meditative. Neither traditionally structured nor conventionally catchy, "Trader" still manages to sink as deeply into the subconscious as the Beach Boys' most accessible and popular hits.