…Or My Vacation Tax Write-Off-A-Ganza!
Regular Psychobabble readers may have noticed that new posts were particularly slow during the week of May 5 through the 13th. That's because Psychobabble was "doing" Europe, or to put it in terms less reminiscent of 1970s pornography, my wife Elise and I were visiting London and Paris. As a Rock & Roll geek in London, I could hardly take
two steps
without looking down at a map, up at a street sign, or over at a bush without being reminded of some incredible old song by one of the city's great chroniclers: The Kinks and The Clash, Donovan and Elvis Costello, The Smiths and Morrissey. Had I broader musical knowledge and a real zeal for nauseating tedium, I might be able to map the entire city with classic British pop songs. Whether it's because of a basic sense of civic pride or the simple love of saying words like Goodge and Piccadilly, Londoners love to sing about London. With the possible exception of New York, no other city has been so moved to sing about its streets, rivers, and train stations.
From the moment we set down at Heathrow Airport (where I did the "
Heathrow Shuffle
", or some exhausted facsimile thereof) to our arrival at our flat in Tottenham Hale (which convolutedly reminded me of The Kinks' "
Denmark Street
" because that song name-checks Tottenham Court Road, which is actually nowhere near Tottenham Hale) great songs were never far from my thoughts even when sitting quietly on a bus or hearing an able-fingered yet deeply, deeply misguided harpist plucking out that vile "Titanic" song in a tube station (no link for you, "Titanic" song).
So, maybe you can call the following article a useful guide the next time you find yourself wandering around London looking for songs to hum. Or maybe you'd rather call it a cynical excuse to write-off my vacation as a business expense.
*
But no matter what you call it, call it
Psychobabble's Rock & Roll Tour of London
!
(
*
Attention I.R.S.: Note the links to Amazon.com strewn liberally throughout this piece, leaving little doubt that it was, indeed, written for profit and that this trip was, also indeed, a completely legitimate business expense.)
May 5
Our journey begins as it always will—or would if not for the
Bank Holiday
service disruptions on Sunday and Monday: on the
Victoria
Station tube line. The line was named in tribute to the lead-off track from The Kinks' 1969 Rock opera
Arthur: Or the Decline and Fall of the British Empire
. The song also inspired Kinks-freak Alexandrina Victoria to embark on the lifelong campaign of kindly Imperialism and genital-based prudery for which she is still revered in the U.K. today. You can second guess or "fact check" these facts if you must, but I can assure you there is absolutely no way they are anything less than 68% historically accurate, and that is a strong percentage by any standard.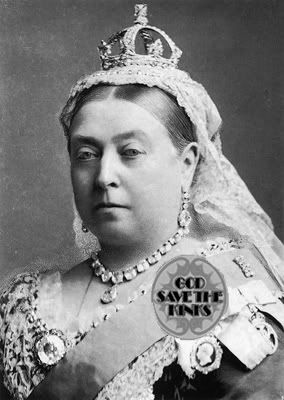 Though severely jetlagged, Elise and I were determined to venture down to the South Bank to check out the Bermondsey Street Market. I could already tell this would be a music-rich area, and not just because the London Bridge Tube Station brings to mind an annoyingly beloved
children's song
. This is the site of the Tower of London and London Dungeon tourist attractions, where children of all ages can delight to the ruling class's history of peasant oppression (the former) or the whore murders of Jack the Ripper (the latter). The Tower of London has been eulogized by both XTC (who tossed it into a song along with some other
towers
) and The Damned. In their "
Lovely Money
", which has to be the single greatest non-L.P. single of the 1980s, The Damned tear into the commercialization of a site of great historical misery with some unforgettable help from Viv Stanshall of the Bonzo Dog Doo-Dah Band. All kidding aside, if you purchase any of the songs in this article (and you should purchase them all), it should be "Lovely Money" (Seriously. I get a small percentage of every song purchased through Psychobabble. Trips to London do not pay for themselves).
The Misfits were even less enthused about their chosen South Bank landmark. Following a miserable trip to Blighty in late 1979, they wrote "
London Dungeon
". Although the title dungeon actually refers to Brixton Jail, where they spent a night during their ill-fated trip, the lyric "Don't wanna be here in your London Dungeon" could probably just as easily apply to the queue outside the attraction, which was very, very long.
Elise and I eschewed such tourist attractions in favor of the Bermondsey Street Market, which as far as I know, has yet to inspire a song. Elise purchased a giant meringue there just as the market was shutting down, so at least she was happy. I was pretty knackered (that's English for "tired") and could barely finish my fish and chips and Guinness at a local pub before passing out in my mushy peas. So we headed back to Tottenham Hale. After a refreshing jet lag nap, we watched a channel 5 program called "Sex: How to Do Everything" (apparently, "everything" is achieving orgasm by electrocuting your eyeballs and getting blown by a guy in a crocodile costume. Great show!) and a retrospective about New York Rock, which featured performances by
Patti Smith
,
The Ramones
,
Lou Reed
,
Blondie
and others of their ilk from old episodes of "The Old Grey Whistle Test". Perhaps not the cultural-immersion I was looking for when we left the U.S. East Coast, but certainly not a bad way to spend a late night either. Not bad at all.
May 6
The next day we got a late start (my fault. Or more specifically, my hair's fault. It literally takes hours to straighten out the frizz), but Elise had her heart set on a visit to Bar Italia in Soho. She's a massive Pulp fan, so this was a sort of pop pilgrimage for her, since the Brit poppers had a track called—yes—"
Bar Italia
". Strangely, she was shocked to discover it was not a bar bar, but a coffee bar (Come on, Elise! Jarvis Cocker even sings "Two sugars would be great," and we veteran drinkers all know you don't put two sugars in a lager). She doesn't like coffee, so she was satisfied to take a quick peek inside, shoot a photo of the sign, and move along.
Fortunately, the area offered a wealth of other pop-centric streets, so I could stroll down the aforementioned Tottenham Court Road and Goodge Street (slightly north in Bloosmbury), of which Donovan painted an enticingly urbane and vivid portrait in his jazzy 1965 classic "
Sunny Goodge Street
" (Paul McCartney's favorite number by his pal Don, incidentally). There's also Leicester Square, where a certain
Jeffrey
would go in an excellent early Jethro Tull number, and Piccadilly Circus, which Tull would mention in a slightly later but also very good song called "
Mother Goose
". Sadly, Piccadilly reminded me more of Manhattan's hellish tourist trap Times Square than a guy in a dirty overcoat playing flute while posed like a deranged crane, but at least it is still fun to say. Say it: Piccadilly. Piccadilly.
Being Sunday, things started shutting down pretty early, so we grabbed drinks and food at a Tapas bar and drinks and drinks at a bar bar, then ambled toward the bus (
magic
? Maybe a little) since our tube wasn't running. Slightly tipsy, we first took advantage of one of the establishments still open that evening, loading up on such quintessential British sundries as HobNobs, fortified ginger beer,
Heinz Baked Beans
, PG Tips Tea, and paper masks of the Royal Family at a Tesco Express. We then headed back to our flat for another night of debauchery (i.e.: drinking and T.V.).
May 7
To make up for a slightly abortive Sunday, Elise jam-packed our Monday schedule. First up, the Portobello Road Antiques Market: record shopping for me (most of the record stores were closed) and dress shopping for Elise (the stuff was too hippie for her modish tastes). At least the road provides another song reference, though I assume Dire Straits were referring to Portobello in Ireland with "
Portobello Belle
" rather than the Notting Hill market. Either way, nice song.
From there, we sped through the rain back to the bus (passing a lone, open record store along the way, much to my soul-crushing sadness) to return to bustling Piccadilly for a science-fiction pub quiz at the Apollo Theater (not a pub) as part of the London Sci-Fi festival, which earlier featured
The Black Cat
(not a sci-fi film). Edgar Ulmer's 1934 expressionist horror movie inspired the name of our own black cat, Miss Boris Karloff, whom we both missed terribly and felt mildly guilty for leaving home alone for the week with nothing but a few cans of Hi-C and an expired box of Frankenberry. She managed just fine though.
So, in tribute to our beloved family cat, Elise and I named our team Miss Boris Karloff. We acquired a third member in the rogue Sean or Shawn (neither surnames nor given-name spellings passed between us). Elise and I figured we were a shoe-in since Sean (Shawn?) was responsible for writing the questions in the past few quizzes. No such luck. Apparently, he did not consider himself a genuine sci-fi expert and mostly used Wikipedia to write his quizzes. A lovely guy nevertheless, so we were happy to have him on team Miss Boris Karloff. Further trouble arrived when it became apparent the questions were about actual sci-fi movies (and T.V. shows and novels) and not the non-sci-fi horror movies like
The Black Cat
that are my area of expertise. Playing the odds, Elise resorted to answering "Dr. Who" for most of the questions. When that wore thin, she started mashing up the futuristic detective with albums by The Who: Dr.
Who Sell Out
, Dr.
Who's Next
, Dr.
Who By Numbers
, Dr.
Who Are You
, Dr… well, you get the picture. As Elise is not a fan of either Who ("Dr." and "The"), I was impressed by her stroke of genius, and though it did not earn us any points, it did prove we were the team to beat in terms of futuristic detective/mod Rock mash-ups. As the sole Yanks in the room, we were the only ones to correctly guess that the American politician who wrote a trashy alternate history called
1945
was the dreaded Newt Gingrich and not "Jackson", as one of the other teams guessed.
A full day by any account, but one that was far from over. We said goodbye to Shawn (Sean. It must be), and made our way to Hyde Park, where The
Rolling Stones
made their famously sloppy post-Brian Jones comeback in 1969 and Mr. Hyde took his name, to later inspire ripping horror rock anthems by The Who ("
Dr. Jekyll and Mr. Hyde
"), The Damned ("
Dr Jekyll And Mr Hyde
"), and Serge Gainsbourg ("
Docteur Jekyll Et Monsieur Hyde
"). We made an attempt to rent the bikes first praised by Tomorrow in their 1967 mod/psych masterpiece "
My White Bicycle
" (these new models are blue, though. Damn shame), but Elise couldn't seem to free hers from its dock. So we did some more walking, passing down by Buckingham Palace, first made famous in the '60s by authentic Chicago pop group
The Buckinghams
. Then back to Tottenham Court Road for a Burlesque Show we were both too exhausted to actually attend. There would always be
tomorrow
though.
May 8
Elise and I decided to pace ourselves a bit more on our final day in London. We began with a visit to the Tate Modern Museum, then a boat ride down the Thames to the Tate Britain. I was aware of the ironic disconnect between the river's filthiness and the staggering beauty of the great Kinks song it inspired, "
Waterloo Sunset
", but seeing the Thames up close was still a shock. Man, is that water dirty. It looks like coffee with dandruff. Perhaps because it was an overcast morning and not evening sunset, I did not get "Waterloo Sunset" stuck in my head, though I did hum a few bars (silently, of course) of "
Afternoon Tea
" when we took afternoon tea at the Tate Britain's basement café. Then I hummed (silently again) the theme to the "
Mickey Mouse March
" when a rodent scurried across the venerated floor tiles. Superb clotted cream, nonetheless. And every time I have clotted cream, I think of Procol Harum's "
Salad Days (Are Here Again)
", in which Gary Brooker sighs "The peach has snuggled closer down into the clotted cream" as though his dog just died.
We finished off the day, and our trip to London, with an evening jaunt to the East End where we enjoyed our greatest successes. First Elise hit sartorial pay dirt at
Paper Dress
, an utterly groovy vintage dress shop that wins further points for hosting a "
Twin Peaks
" viewing party every Tuesday night. After that I finally got my chance to do some music shopping at the historic Rough Trade record shop, where I blew way more money than I probably should have. But since I'll be posting reviews of some of my acquisitions here on Psychobabble in the coming days, tax write-offs are once again in the cards. It's win win.
And with one final dinner in the Indian restaurant district, and a final return to Tottenham Hale, our Rock & Roll trip to London had come to a satisfying end.
The next day, we went to Paris, which has
this song
.
The end.