Not sure how long ago this happened, but I just discovered it, so maybe it will be news to you, too: Hulu is now hosting all three seasons of "
Night Gallery
". The anthology series was an attempt to update "Twilight Zone" for the '70s, and though Rod Serling served as host for the show's various terror tales, he had little involvement otherwise. As a result, "Night Gallery" never came close to matching "Twilight Zone" in terms of storytelling—no episode has achieved "classic" status and far too many peter out without satisfactory conclusions—but it's pretty neat as a time capsule.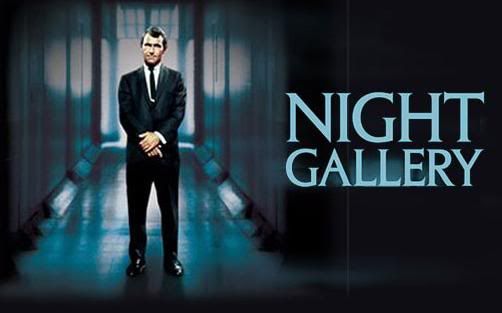 Last night I watched the second season opener, which was not only a salty stew of unbecoming hairstyles and moog synthesizer stingers, but also a cavalcade of retro-superstars, such as Ray Milland, Leslie Nielson, Clint Howard, Sue Lyon, George Maharis of "Route 66", "Love Boat's" Bernie Kopell, and winner of the James Coco Look-Alike Contest, Michael Constantine. The episode is also strangely structured, with two main stories—the first of which anticipates
The Dead Zone
; the second rewrites
The Hands of Orlac
— and a pair of cutesy comedy skits that pay tribute to
Dracula
and
Phantom of the Opera
. The
Dracula
bit is notable mostly for completely underusing Sue Lyon and sporting a vampire with the same make-up job as the one in "The Monstrous Monkee Mash" episode of "The Monkees", but the "Phantom" one, starring Nielson, is actually kind of charming.
Vampires as seen by "Night Gallery" and "The Monkees":
You can watch this episode below; then head to
Hulu
for further "Night Gallery" madness.